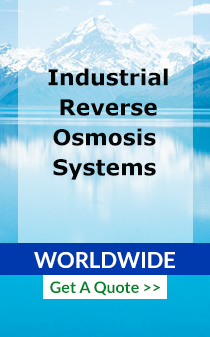 Industrial Reverse Osmosis RO Systems RO-400
Product Description
Brackish water reverse osmosis equipment is tasked with purifying water and eliminating salts and other contaminates from many different impure sources. They have the power of blocking bacteria, particles, sugars, proteins, dyes, and other impurities that encompass a molecular weight of more than 150-250 dalton.
Compact RO System
Our largest tap and brackish water equipment, the BWRO-400 series, may come standard with media pre-filters, chemical dosing, and antiscalant. This equipment is primarily customized to suit individual customer and water application needs. The BWRO-400 Series is recognized as one of the most compact industrial reverse osmosis equipment in the market, it also claims state of the art energy saving membranes.
When we design our BWRO-400 series industrial reverse osmosis equipment, we take into consideration certain matters such as robust construction, user friendly design, environmentally friendly materials, and long term reliability.
Water Purification Process
Industrial reverse osmosis machines include multimedia prefilters, a water softener, the reverse-osmosis unit with semi-permeable membranes, and a UV sterilizer post treatment. These machines apply the technology of reverse osmosis by transporting feed water through multimedia prefilters to take out huge particles. Then the water is transported into a water softener to remove hardness that may cause damage to the membranes within the machine. These pretreatments have the capability of removing hardness, chlorine, odors, color, iron, and sulfur. The water then continues into the reverse osmosis machine where a high pressure pump applies extreme pressure to the highly concentrated solution, separating the remaining salts, minerals, and impurities that the pre-filters couldn't catch. Fresh, potable water comes out from the low pressure end of the membrane while salts, minerals, and other impurities are discharged into a drain on the other end. Lastly, the water is passed through a UV sterilizer to kill any bacteria and microbes that still exist in the water.
High Capacity Industrial Machines
Economical and efficient, BWRO-400 industrial brackish water reverse osmosis machines acquire the latest in RO technology to remove dissolved salts, particles, organics, minerals, solids and other impurites from water. Reverse Osmosis uses RO membranes as its core separation technology to block these impurities. Pure Aqua utilizes the most reputable membranes manufacturers such as Dow Filmtec and Hydranautics (USA made)
As part of our industrial line, the BWRO-400 series machines can accommodate 28,800 to 172,800 GPD, with feed water TDS ranging from 1000 ppm to 5000 ppm. These machines come standard with media pre-filters, chemical dosing and antiscalant. Customization is available on all our units based on individual water application and customer needs.
Operation Specification:
Max. feed water temperature: 42°C
Feed water TDS: 0-1,000 ppm
Feed water pressure: 20 to 80 psi
Equipment upgrade for TDS over 5,000 ppm
Operating pressure: 150 to 250 psi
Hardness over 1 GPG requires antiscalant dosing
Hydrogen Sulfide must be removed
pH tolerance range: 3-11
Turbidity should be removed
Max. Silica Tolerance: 60 ppm @ 60% recovery
Max. Iron content: 0.05 ppm
Operate at higher TDS by lowering recovery
Model Number
Permeate Flow Rate
GPD
M3/D
TW-28K-1480
28,000
109
TW-36K-1580
36,000
136
TW-43K-1680
43,000
164
TW-57K-2480
57,000
218
TW-72K-2580
72,000
273
TW-87K-3480
87,000
327
TW-108K-3580
108,000
409
TW-130K-3680
130,000
491
TW-144K-4580
144,000
545
TW-173K-4680
173,000
655

| | |
| --- | --- |
| Standard Features: | Available Options: |
| Programmable time delay and set points | Automatic hourly flush |
| Motor starter | Feed/Permeate blending |
| Stainless steel multi-stage pump with TEFC motor | Export crating |
| FRP membrane housings | Ozonation and UV sterilization systems |
| 5 micron cartridgae pre-filter | Water softeners |
| 460V/3Ph/60Hz power supply | Feed pH controller with sensor |
| Microprocessor based control panel | Feed ORP controller with sensor |
| NEMA 12 enclosure | Water and hour meters |
| Low pressure switch | Chemical dosing systems |
| High pressure switch | Media and Iron prefiltration systems |
| Liquid filled pressure gauges | Post deionization polishers |
| Permeate conductivity monitor | Pre piped skid system |
| Permeate & concentrate flow meters | Remote Monitor/control panel |
| Powder coated carbon steel frame | Feed water conductivity monitor |
| TFC spiral wound membranes | Membrane cleaning skid |
| | 380-415V/3Ph/50Hz power supply |
| | 220V/3Ph/60Hz power supply |
| | Product tank level controller switch |
The ideal applications for an industrial brackish water RO filtration plant include:
EDI Pre-treatment
Cooling Towers
Plating Operations
Rinse Water
Ion Exchange Pre-treatment
Power Plants
Pharmaceutical
Electronics
Metal Finishing
Boiler Feed Water
Safe Drinking Water
Mining Industry
Laboratory
Food and Beverage
Beverage Production and Bottled Water
Chemical Blending
Ice Manufacturing
Spot Free Product Rinse