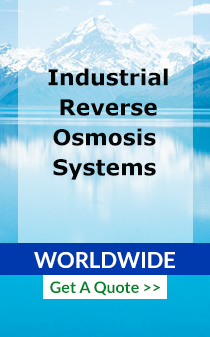 Commercial Brackish Water Reverse Osmosis BWRO Systems RO-300
Pure Aqua supplies a full line of standard and fully customizable Reverse Osmosis systems, all of which are engineered using advanced 3D computer modeling and process design software for accurate and customized solutions.
Customizable & High Capacity
The RO-300 series comes with many of the same standard features as the RO-200 series, including multimedia and activated carbon pre-filters, water softeners with brine tank, and UV sterilizers. These too can be customized based on individual design to include chemical dosing, cleaning skids, antiscalant and more. These reverse osmosis systems can accommodate between 13,000 to 32,000 GPD, with feed water TDS of 1000 ppm to 5000 ppm.
Pure Aqua's Reverse Osmosis systems are capable of removing salts as well as other impurities such as bacteria, sugars, proteins, dyes and constituents having a molecular weight greater than 150-250 Dalton.

Operation Specifications
Max. feed water temperature: 42°C
Feed water TDS: 0-1,000 ppm
Feed water pressure: 20 to 80 psi
Equipment upgrade for TDS over 5,000 ppm
Operating pressure: 150 to 250 psi
Hardness over 1 GPG requires antiscalant dosing
Hydrogen Sulfide must be removed
pH tolerance range: 3-11
Turbidity should be removed
Max. Silica Tolerance: 60 ppm @ 60% recovery
Max. Iron content: 0.05 ppm
Operate at higher TDS by lowering recovery
Commercial Brackish Water Reverse Osmosis Systems RO-300
Model Number
Permeate Flow Rate
GPD
M3/D
TW-13K-3340
13,000
50
TW-15K-5240
15,000
57
TW-18K-4340
18,000
68
TW-22K-5340
22,000
85
TW-24K-8240
24,000
91
TW-27K-6340
27,000
102
TW-32K-7340
32,000
121

| | |
| --- | --- |
| Standard Features: | Available Options: |
| NEMA 12 enclosure | Feed / Permeate blending |
| Low pressure switch | Export crating |
| High pressure switch | 380-415V/3Ph/50Hz power supply |
| Liquid filled pressure gauges | 220V/3Ph/60Hz power supply |
| Permeate conductivity monitor | Media and Iron prefiltration systems |
| Permeate & concentrate flow meters | Ozonation and UV sterilization systems |
| Powder coated carbon steel frame | Water softeners |
| 4" TFC spiral wound membranes | Post deionization polishers |
| Stainless steel multi-stage pump with TEFC motor | Pre piped skid system |
| FRP membrane housing | Product tank level controller switch |
| 5 micron cartridge prefilter | Feed pH monitor with sensor |
| 460V/3Ph/60Hz power supply | Feed water conductivity monitor |
| Microprocessor based control panel | Membrane cleaning skid |
| Programmable time delay and set points | Automatic hourly flush |
| Status indicators | Feed ORP monitor with sensor |
| Motor starter | Water and hour meters |
| | Chemical dosing systems |
The ideal applications for commercial reverse osmosis systems include:
Rinse Water
Ion Exchange Pre-treatment
Ice Manufacturing
Mining Industry
Boiler Feed Water
Power Plants
Chemical Blending
Food and Beverage
Metal Finishing
Laboratory
Safe Drinking Water
EDI Pre-treatment
Beverage Production and Bottled Water
Electronics
Cooling Towers
Spot Free Product Rinse
Plating Operations
Pharmaceutical